Organizational Update: CGNK in Transition
We wish to announce that in 2012, the Center for Global Nonkilling will be undertaking a strategic restructuring process, while new initiatives will be launched in continued support of the Center's mission. Beginning November 1, 2011, all Center correspondence should be directed to Joám Evans Pim (info@nonkilling.org). Other members of the founding leadership team will be leading new nonkilling initiatives. We will provide periodic updates as the restructuring process continues and new initiatives are begun.
Center for Global Nonkilling First Team (2008-2011)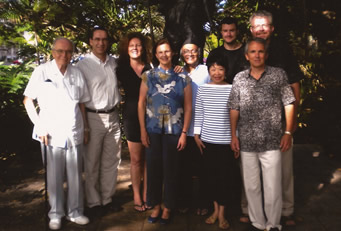 From left to right: Glenn D. Paige (Chair, Governing Council, Hawai'i), Luis Javier Botero Arango (Education & Training Team Leader, Colombia), Katherine Li (Project Development Team Leader, Hawai'i), Karen Cross (Co-Director, Hawai'i), Chaiwat Satha-Anand (Action-Policy Team Leader, Thailand), Glenda Paige (Former CGNV Secretary, Hawai'i), Joám Evans Pim (Research Team Leader, Galiza), Greg Bourne (Co-Director, United States of America), Tom Fee (Monitoring & Networking Team Leader, United States of America), Marge Porter (Lead Administrator, Hawai'i [not in this picture].