India pays homage to Prof. Paige in Trivandrum and Bhopal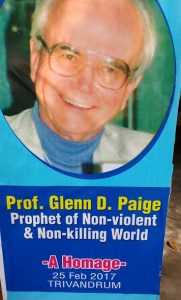 Two memorial events in honor of CGNK founder Glenn D. Paige were held in India on February 25 and 19. CGNK Honorary Sponsor Prof. N. Radhakrishnan convened on the 25th a major gathering of international peace activists from India, Sri Lanka, Bangladesh and Canada at the Gandhi Bhavan of Trivandrum, Kerala. Over 100 participants, including 18 visitors from Canada led by the former member of the Legislative Assembly of Alberta and peace activist Rev. Bruce Miller, who described Glenn as a "trendsetter par excellence". The event was presided by P Gopinathan Nair and included an exhibition of sketches and paintings by Anil Kattachira under the guidance of Dr Ashok Philip, in addition to a display of book by and about Prof. Paige. Dr Radhakrishnan, initiating the memorial
service, said that "like Gandhi, Professor Paige offered a viable alternative to the problem of violence and his espousal of a Nonkiling world is a positive and revolutionary vision of a new world".
Jagran Lakecity University, at Bhopal, also held a Memorial ceremony on the 19th, in which excerpts from Glenh Paige's book Nonkilling Global Political Science were read out. During the event, the book Give Nonviolence a Chance, by CGNK Chair Anoop Swarup, was presented to Chief Justice K G Balakrishnan, Chairman of National Human Rights Commission and former Chief Justice of India, that also attended this tribute organized in the state of Madhya Pradesh.