Leadership Power and Politics: from Killing to Nonkilling Political Science
The Faculty of Political Science at Thammasat University, Bangkok (Thailand), held a Seminar on the theme "Leadership Power and Politics: from Killing to Nonkilling Political Science" on March 1, 2017. The Seminar was convened by Professor Chaiwat Satha-Anand, Vice-Chair of the Center for Global Nonkilling, in memory of its founder Professor Glenn D. Paige. The public event took place in a packed Political Science auditorium from 13.45-16.30, and has coverage from three television stations and other news media.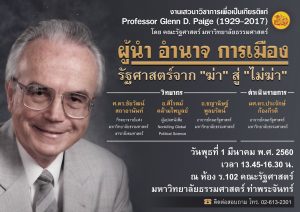 Besides Prof. Chaiwat Satha-Anad, panelists included Assistant Professor Chayanit Poonyarat and a graduate of CGNK's Global Nonkilling Leadership Academy; Sirote Klampaibul, a television political commentator and translator of Glenn Paige's book Nonkilling Global Political Science into Thai; Assitant Professor Dr. Siwach Sripokangkul from Khon Kaen University, Northeast Thailand; and Assistant Professor Dr. Prajak Kongkirati, director of the Direk Jaiyanam Research Center.
Chayanit Poonyarat presented Glenn Paige's influence on the study of political leadership, decision making studies and the compelling idea of nonkilling poltical science. Sirote Klampaibul suggested that Glenn's work denaturalizes the belief in killing, aiming a liberating humankind from its cultural addiction to killing. Siwach Sripokangkul explained how he used the Thai translation of Glenn's book (Rattasart Mai Kha) every year to teach to his students, sharing some of their reactions. One student wrote: "From reading the book, I have changed. From someone who has experienced violence in Thai society and felt that there is nothing one could do but to desensitize oneself in the face of violence, to someone who believes that nonkilling and nonviolent society is possible." The prospects for long-term change by these new generations of political science students are encouraging.
Chaiwat Satha-Anand offered the final presentation, highlighting Glenn as a teacher and a visionary. Chaiwat, that completed his doctoral studies at the University of Hawaii under Glenn's supervision, explained how he was most generous with his students, dedicating time and allowing them to venture into the frontiers of knowledge where few have gone before. As a visionary, he showed the world a possibility to be a better and safer place for all with nonkilling, and idea that will continue to thrive in the academia, the public, international organizations and schools. A Q&A session followed generating creative discussions.