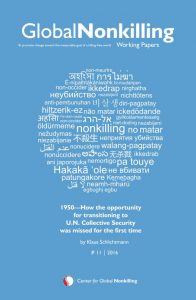 ISSN 2077-141X [print]; ISSN 2077-1428 [online]
The Center for Global Nonkilling launched in January 2010 its Global Nonkilling Working Papers series. Following the Center's mission of "promoting change toward the measurable goal of a killing-free world", the series are dedicated to theory and research incorporating original scientific works that tackle issues related to the construction of nonkilling societies, where killing, threats to kill and conditions conductive to killing are absent. The Global Nonkilling Working Papers series have a multidisciplinary perspective, open both to theoretical and empirical works on topics such as:
Nonkilling and neuro-bioscience
Nonkilling and gender relations
Nonkilling and education
Nonkilling and economics
Nonkilling and the environment
Nonkilling and the media
Nonkilling, science, and technology
Nonkilling in spiritual and philosophical traditions
Nonkilling and the arts
Nonkilling and sports
Nonkilling and the professions
Role of the military and police in nonkilling social transformation
Nonkilling futures
Nonkilling and leadership
A wider list of possible research topics can be found in the two following publications: Nonkilling Global Political Science (2002; 2009) by Glenn D. Paige and Toward a Nonkilling Paradigm (2009), edited by Joám Evans Pim. Both available for free download at the Center's website.
The collection is published on an occasional basis as texts are delivered by authors and reviewed by the Nonkilling Research Committees. The series will be distributed both on print and online, all issues being available for free download through the Center's website. Authors remain as sole holders of the legal copyright for their texts, but a Creative Commons Attribution-Noncommercial-No Derivative Works 3.0 will be applied through the series to guarantee wide distribution and fair educational use.
Authors must submit a title, a 100 word summary and a 80 word biographical sketch, prior to acceptance of the complete proposal. After approval, authors will have four months to complete the final text, with an extension between 10,000 and 20,000 words. The Chicago Manual of Style should be used for reference.
For additional information contact series Editor Joám Evans Pim.