Festschrift in Honor of CGNK Founder Published in India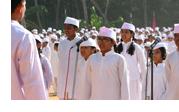 March 2012. A collection on essays has just been published in India by the Gandhi Media Centre under the title "Towards a Nonkilling World: Festschrift in Honor of Prof. Glenn D. Paige". The celebratory "festschrift" is edited by Prof. N. Radhakrishnan, Chairman of the Indian Council of Gandhian Studies and CGNK Honorary Sponsor, Glenda Paige, former CGNV Secretary, CGNK Special Advisors Balwant Bhaneja and Chaiwat Satha-Anand and CGNK Director Joám Evans Pim.
This unique book will soon be made freely available online and for purchase through book retailers. The volume includes chapters by A.T. Ariyaratne, David Krieger, Jim Dator, Bill Bhaneja, Lucien Mabwe, Tatiana Yakushkina, Alan Nazareth, Koozma J. Tarasoff, Bae Ho Hahn, Johan Galtung, Antonino Drago, Peter M. Gardner, Ralf summy, Hidekazu Sakai, Joám Evans Pim, Ramon Lopez-Reyes, Piki Ish-Shalom, Leslie E. Sponsel, N. Radhakrishnan, Robley E. George, Chaiwat Satha-Anand and Fidelis Allen.
The volume was launched at Trivandrum, Kerala, India on February 26 in a gathering of over eighty senior social scientists, gandhian scholars and peace activists and educators, politicians and media persons with a keynote speech by Dr. A.T. Ariyaratne, founder and president of the Sarvodaya Shramadana Movement in Sri Lanka. Panelists included Professor N. Radhakrishnan, Prof. V. Ramdas, Secretary of the Kerala Gandhi Smarak, and guest of honor Sri K.C. Shashidhar, Chief General Manager of NABARD and scholar of sustainable development for peace.