Nonkilling Talk in Germersheim, Germany on June 1st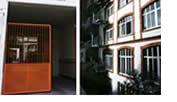 June 2012. Nonkilling was the topic of this week's "Friday Conference" (June 1), conducted by the Translation Faculty of the Mainz University in Germersheim/Germany. Anis Hamadeh, head of the Zentrum zur Förderung des Nichttötens - Nonkilling Deutschland nonprofit, talked for an hour about the book Nonkilling Global Political Science he translated into German.
About fifty people attended the conference, some of them in translator's cabins from which they translated the speech into English, French, Italian, Spanish, Dutch, Greek, Russian and other languages simultaneously. Anis explained that the idea of Nonkilling is an open research on the question whether or not a nonkilling society is possible and referred to the nonkilling.org website for details. He spoke about Professor Paige, his life and motivation and about how he met him in Honolulu on the occasion of the First Nonkilling Leadership Academy.
The talk was very well-received and several participants pointed out in the discussion that they heard about the "lethal tradition" for the first time and that they want to learn more about nonkilling. To demonstrate the interconnectedness of science and art, Anis recited two poems on war and peace from his current German stage show "Die Dichter" (The Poets) and brought his guitar to play and sing the song "No More Killing". The conference was filmed and might be posted at www.fask.uni-mainz.de/eng.