CGNK at Violence Prevention Alliance 8th Milestones Meeting
 The Center for Global Nonkilling participated at the 8th Milestones of a Global Campaign for Violence Prevention Meeting that took place in Ottawa, Canada, 19-20 October 2017, under the theme Translating Sustainable Development Goal violence prevention targets into national and local action. The meeting was hosted on behalf of the World Health Organization's Violence Prevention Alliance (of which CGNK is a participant) by the Canadian Government and the Public Health Agency of Canada. CGNK was represented by its Governing Council member Bill Bhaneja and Gabriel Carrier, both fortunately based in Ottawa.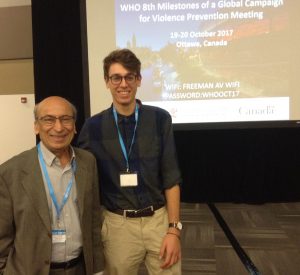 Over 250 participants from some 50 countries attended, with a strong Canadian multisector presence. The main goal of the meeting was to review progress on actions to achieve the Sustainable Development Goals (SDG) violence prevention targets, particularly target SDG 16.1 "to significantly reduce all forms of violence and related death rates everywhere", that captures the essence of nonkilling.
During the Milestones meeting the new WHO Violence Prevention Information System (Violence Info) was presented to the international community. Violence Info collates published scientific information on the main types of interpersonal violence. This includes information on prevalence, consequences, risk factors, and prevention and response strategies. It also describes what countries report about their actions to address violence. This version contains most of the major features, but remains a work in progress with more studies to be added.
The Center for Global Nonkilling has been an active participant of the World Health Organization's Violence Prevention Alliance since 2010, and has participated in the 4th Milestones meeting (Geneva, 2009), 2010 annual VPA meeting (Rome), 5th Milestones meeting (Cape Town, 2011), 6th Milestones meeting (Mexico, 2013), and 2015 annual VPA meeting (Geneva). It also contributed to the research article "Global research priorities for interpersonal violence prevention: a modified Delphi study" published in the first 2017 issue of the Bulletin of the World Health Organization (95/1).