Global Nonkilling Observatory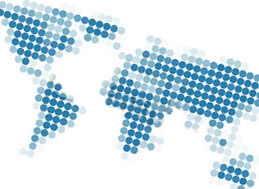 CGNK is working to establish a Global Nonkilling Observatory with an associated web portal, the first nonkilling and nongovernmental "agency" providing nonkilling intelligence assessment (development of forecasts of behaviour and recommended courses of action to global leadership) and intelligence analysis (process of taking known information about situations and entities of strategic, operational, or tactical importance, characterizing the known, and, with appropriate statements of probability, the future actions in those situations and by those entities).
The Observatory is designed to gather, assemble, analyze, interpret and disseminate global data on killing and nonkilling, through scanning, monitoring, mapping, forecasting and reporting. These functions will be conduced through a network of regional and country delegates based on CGNK affiliated and Research Committee associates, combining skills of activists, scholars and students to gather and interpret data using a cross-national standardized collection procedure. The main products to be publicly offered online by the Observatory are listed below.
Nonkilling Bluebooks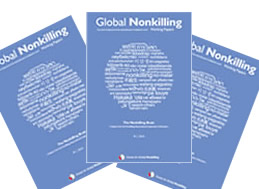 Generically speaking, "bluebooks" are compilations of statistics and information on a certain topic (the terms goes back to 15th century Parliamentary records). The Global Nonkilling Observatory intends to issue bluebooks for each country and region being monitored, to be updated online on a regular basis, and an annual Global Nonkilling Bluebook compiling the most relevant information from national and regional reports.
Country Bluebooks will include basic country statistical data, including relevant indexes for nonkilling (homicides, suicides, war-related deaths, other violent incidents, security budget and force numbers, CO and death penalty legislation, etc.), a background intelligence report (explaining active/recent internal or external conflicts, genocide, terrorism, democide, nonviolent mobilizations/political transitions, …), profiles of current (established and emergent) and historical nonkilling leaders, profiled list of nonkilling organizations and institutions (civil society, political, educational, economic, spiritual, research, security, media and cultural), summary of nonkilling actions/policies in place (homicide reduction, suicide reduction, disarmament, gender and domestic killing prevention, nonkilling public security, anti-war efforts, departments of peace / diplomatic initiatives, anti-death penalty / human rights, anti-conscription, poverty / inequality reduction, environmental / sustainability efforts, nonkilling arts and culture, other political struggles/campaigns) and a country directory of organizations and institutions relevant to nonkilling and/or mentioned in the report (including contact, leadership, main fields of action and nonkilling-related projects).
Guides of Nonkilling Best Practices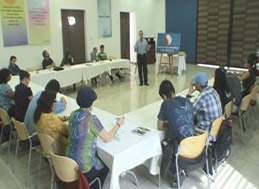 The Guides of Nonkilling Best Practices developed by the Observatory are based on the country and regional information compiled and explained in the Bluebooks. Guides illustrate specific cases of successful initiatives, actions and policies that have measurably reduced killing where applied. In an easy to read and understand format, guides bring attention to advances in specific areas catalyzing creative experimentation and diffusion of nonkilling innovation in other places around the world dealing with the same problems, that can be culturally tailored in a case-to-case basis. This compilation of nonkilling "best-practices" case-studies, include progress and results from: unarmed police forces, small weapons elimination programs/ laws, death penalty abolition, countries without armies, conscientious objection to military service, suicide prevention campaigns, departments for peace, gender/domestic killing elimination programs, etc.
Global Body Count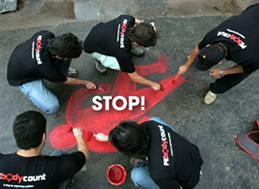 GBC is the crowd-sourcing social media tool of the Observatory. Based on an online portal the initiative seeks to trace killing and nonkilling in communities and countries through a participatory system. Building upon previous initiatives such as Pernambuco Body Count (implemented in Brazil) or Iraq Body Count (operating in Iraq since 2003), the system will allow registered users to provide and keep an updated database of relevant information both on people killed in their community or country—using reliable media or governmental sources—and nonkilling initiatives suggested by contributors or currently being implemented to reduce killings. The goal of GBC is to sensitize individuals on the realities of killing and nonkilling of their communities and countries, provide tools and ideas to reduce killing and, simultaneously, gather crucial statistical and qualitative information on killing to aid causal analysis and future interventions.
The main multilingual portal will allow access to country or local sections, were numbers are shared on those peopled killed in the day, week, month and year, profiles of each person killed can be accessed featuring relevant information on how, where and when they were killed, statistics can be generated and crossed through a number of fields (dates, gender, weapons, locations, hours, …) and posts on actions, programs and ideas to reduce killing in that area are shared and commented. The creation of local action and information gathering groups linked to GBC are encouraged, with a small booklet of suggested actions to campaign for public efforts to reduce killing (public screens linked to the local body count numbers, commemorations in memory of those individuals that have been killed and that can now be identified, public performances and demonstrations in those places where people have been killed, etc.), information gathering ideias and good practices to implement at the community level.
As envisioned, GBC will also have an associated online newspaper called 0K, with a daily selection of nonkilling news from around the world. The expression "O.K." is derived from the military term "Oh-kay", "Zero K, "zero killed", used to report absence in casualties when returning from combat (officers would otherwise note down the number of combat deaths followed by the letter "k").
Nonkilling Communities Flag Program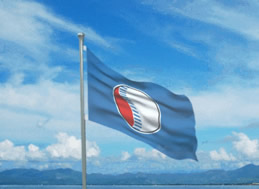 CGNK is working on a Nonkilling Communities initiative that will encourage, recognize and support local communities where no killings take place or where nonkilling good practices are being implemented to reduce killing. Local authorities will be invited to apply for recognition through the Flag Program, were CGNK will honor local governments in either of these categories (communities with zero killing or communities with good practices to reduce killing) with an specific flag and banner, which they will be allow to fly or use in leaflets, etc., as long as they comply with program requirements (monitoring of killing, nonkilling efforts and submission of annual reports to the Global Nonkilling Observatory). Materials developed by CGNK (Guide of Best Practices, Bluebooks, educational, …) will be provided to those communities on a regular basis.