Leadership
Honorary Sponsors
Máiread Corrigan Maguire
Northern Ireland

Nobel Peace Laureate (1976), Máiread is Honorary President and co-founder, with Betty Williams, of the Community of Peace People, an organization which attempts to encourage a peaceful resolution of the Troubles in Northern Ireland. She also was one of the founders of The Nobel Women's Initiative and is member of the Honorary board of the International Coalition for the Decade of the culture of Peace and Nonviolence.

Nobel Peace Laureate (1987), Dr. Óscar Arias was President of Costa Rica from 1986 to 1990 and from 2006 to 2010, having been instrumental in the promotion of peace agreements throughout Central America. A member of Collegium International, he was also elected to the Board of Directors of the International Criminal Court's Trust Fund for Victims and of the Board of Trustees of Economists for Peace and Security. Besides the Nobel Peace Prize, he is also recipient of the Albert Schweitzer Prize for Humanitarianism and over fifty honorary degrees, including doctorates from Harvard and Princeton universities.

Juan Esteban Aristizábal Vásquez ("Juanes")
Colombia

Juanes is a Colombian musician and activist from Medellín, having sold millions of albums and won several Grammy awards. In 2006 he established the Mi Sangre Foundation to help victims of anti-personnel mines. He was honored at the annual benefit gala for Sir Paul McCartney's Adopt-A-Minefield for his work as a Goodwill Ambassador for United for Colombia, a non-profit organization that raises awareness about the impact of land mines in Colombia. He organized the first "Peace Without Borders" concert as a response to the 2008 Andean diplomatic crisis on the Colombia-Venezuela border. In 2009 the second "Peace Without Borders" concert was held in Havana's Plaza de la Revolución.

Dr. Mayor Zaragoza is President of the Foundation for a Culture of Peace, Co-President for the UN High Level Group for the Alliance of Civilizations, member of the Honorary Board of the International Coalition for the Decade for the Culture of Peace and Nonviolence and Honorary Chairman of the Académie de la Paix. He served as Director-General of UNESCO from 1987 to 1999, establishing the Culture of Peace Program and fostering the adoption of the Decade for the Culture of Peace and Nonviolence. As a biochemist he was also one of the founders of the 1986 Seville Statement on Violence.

Neelakanta Radhakrishnan
India

Gandhian scholar and activist, Professor Radhakrishnan organized many university and village shantisena and trained more than 5,000 young volunteers over 20 years. He took up assignment under the Government of India as Director of Gandhi Smriti and Darshan Samiti, also establishing the Indian Council of Gandhian Studies; Gandhi Media Centre; G. Ramachandran Institute of Nonviolence and Shantisena; and Missionaries of Nonviolence Foundation India. He has authored over 50 books.

Bernard Lafayette, Jr.
United States

The Rev. Dr. Lafayette , an ordained minister, is a longtime civil rights activist, organizer, and an authority on nonviolent social change. He co-founded the Student Nonviolent Coordinating Committee (SNCC) in 1960, and he was a core leader of the civil rights movement in Nashville, TN, in 1960 and in Selma, AL, in 1965. He directed the Alabama Voter Registration Project in 1962, and he was appointed by Martin Luther King, Jr. to be national program administrator for the Southern Christian Leadership Conference and national coordinator of the 1968 Poor People's Campaign. He is Distinguished Senior Scholar-in-Residence at Candler School of Theology, Emory University.

Ilya Prigogine (In Memoriam)
Russia/Belgium

Nobel Chemistry Laureate (1977), Prigogine is widely acknowledged for his work on dissipative structures and their role in thermodynamic systems. He became professor at the Free University of Brussels in 1950, were he also became director of the International Solvay Institute. He was Ashbel Smith Professor of Physics and Chemical Engineering at the University of Texas at Austin, were he co-founded in 1967 the Center for Complex Quantum Systems. Back in Belgium, he also directed the Center for Statistical Mechanics and Thermodynamics. He received awards such as the Francqui Prize for Exact Sciences (1955) or the Rumford Medal (1976), and was made Viscount by the King of the Belgians.

Robert Muller (In Memoriam)
Belgium

Dr. Muller devoted 40 years working for peace at the United Nations, reaching the position of Assistant-Secretary-General. He created a World Core Curriculum and is known throughout the world as the "father of global education." There are 29 Robert Muller schools around the world with more being established each year. The World Core Curriculum earned him the UNESCO Peace Education Prize in 1989. Dr. Muller is also Co-Founder and Chancellor Emeritus of the University for Peace created by the United Nations in demilitarized Costa Rica.

Download "The Right Not to Kill" by Robert Muller in PDF.
Governing Council
Glenn D. Paige (Chair)
Hawai'i

Founder and former president of the Center for Global Nonviolence; Professor Emeritus of Political Science, University of Hawai'i at Mānoa; Author of Nonkilling Global Political Science (2002; 3rd ed. 2009); The Scientific Study of Political Leadership (1977) and The Korean Decision: June 24-30, 1950 (1968). He is a graduate of Phillips Exeter Academy (1947), Princeton University (A.B., politics, 1955), Harvard University (A.M., East Asian regional studies, 1957) and Northwestern University (Ph.D. political science, 1959).

Bill (Balwant) Bhaneja (Vice-Chair)
Canada

Following his foreign service career in Canada, he was a Senior Research Fellow at the University of Ottawa. He has chaired nonkilling panels at the European Consortium for Political Research in Budapest (2005) and at the IPSA World Political Science Congress, Santiago de Chile (2009). He also co-chaired with Mairead Maguire the First Global Nonkilling Leadership Forum, in Honolulu, Hawaii (2007). He is a member of the Canadian Pugwash Group, Science for Peace, Civilian Peace Service Canada and co-founder of the Canadian Department of Peace Initiative. Publications include Science and Government: Nehru Era and Quest for Gandhi: A Nonkilling Journey.

Lou Ann Ha'aheo Guanson (Secretary)
Hawai'i

Executive Director, Chinatown Peace Center; Vice-president, Pacific Justice and Reconciliation, Honolulu; Associate Professor, University of Hawai'i Manoa Spark M. Matsunaga Institute for Peace and School of Social Work; former Vice-president of the http://www.ifor.org/International Fellowship for Reconciliation; former Chair of the City of Honolulu Commission on the Status of Women and former Vice-president of the Center for Global Nonviolence. Editor of Hawai'i Journeys in Nonviolence: Autobiographical Reflections (1995) and Teaching Peace (1991); co-author of Nonviolence in Hawaii's Spiritual Traditions.

Anoop Swarup (Treasurer)
India

Founder Chairman of the Global Knowledge Alliance; Vice Chancellor, Jagran Lakecity University; Commissioner at the Government of India; Executive Director of the Nehru Yuva Kendra Scheme; UNSC Expert at United Nations and GEO Reviewer IPCC (UNEP 2007). Author of Regional Economics Engagement and the Free Trade Agreements - Analytical Insights and Policy Options (2010) and The world of money laundering financial crimes and commercial frauds (2004).

Sona Khan
India

Social activist, former judge, attorney before the Indian Supreme Court, and columnist for Indian Express, The Hindu, and the Hindustan Times, Sona Khan is renowned for her work on women's rights, development efforts and against child prostitution. She is an specialist on Islamic Law and has been a consultant to UNDP/UNIFEM, UNHCR, UNESCO, USAID, among many other international bodies and organizations.

Chaiwat teaches Violence and Nonviolence in Politics at Thammasat University in Bangkok and was a Senior Research Scholar with the Thailand Research Fund. He also served as Vice-President of the Strategic Nonviolence Committee, National Research Council of Thailand; Vice-President of the Foundation for Children Development; and Director of the Peace Information Center. He served as Action-Policy Team Leader of the CGNK between 2008 and 2011.

Jose V. Abueva
Philippines

Founding President, Kalayaan College at Quezon City; Former President and Professor Emeritus of Political Science and Public Administration, University of the Philippines; Former Secretary of the UN University; Chairman, Aurora Aragon Quezon Peace Foundation; Trustee of the Center for Media Freedom and Responsibility, the Philippine Center for Investigative Journalism and the Foundation for Worldwide People Power.

Vasu Gounden
South Africa

Founder and Executive Director of the African Centre for the Constructive Resolution of Disputes (ACCORD). He has been involved in mediation work in South Africa, Somalia, Burundi and the DRC. His achievements have led the World Economic Forum to elect him as one of their Global Leaders for Tomorrow (GLT). He also serves on the Boards of the Gandhi Development Trust and the International Negotiation Journal.
Director
Joám Evans Pim (Director)
Galiza

Joám followed graduate and undergraduate studies in Journalism, Anthropology and Politics (Peace Studies). He served as CGNK Communication (2008-2009) and Research (2009-2011) Team Leader and had previously collaborated with the Strategic Planning Committee formed in 2008 to develop the organization. Edited volumes include Global Nonkilling Leadership (2008, with Glenn Paige), Toward a Nonkilling Paradigm (2009), Nonkilling Societies (2010), Engineering Nonkilling (2011), Nonkilling Psychology (2012, with Dan Christie), Nonkilling Futures (2012, with Jim Dator) and Nonkilling Security and the State (2013). He also authored the entry on nonkilling in The Oxford International Encyclopedia of Peace (2010). Before working for CGNK he lectured at the University of Santiago de Compostela and directed the Galizan Institute for International Security and Peace Studies.

Contact: jevans [at] nonkilling.org
Staff
Adrião Morão (IT Systems Administrator)
Galiza

Adrião Morão graduated as an IT Systems Technical Engineer from the University of Corunha, where he is also enrolled in a Master's Degree in Computer Science. He is involved as an activist with various social and environmental campaigns and movements, having contributed on topics such as open source software and the commons in periodical publications.

Contact: morao [at] nonkilling.org

Luis Javier Botero (Regional Coordinator)
Colombia

Luis was Nonviolence Adviser to the Governor of Antioquia (Colombia) for 7 years and led the State's Nonviolence Program between 2001 and 2007. He also organized the 5th International Nonviolence Conference (Medellín, 2002) and was the first Level II and III Nonviolence trainer in Latin America. He served as CGNK Education and Training Team Leader (2008-11), with responsibility over the Global Nonkilling Leadership Academy, and had previously collaborated with the Strategic Planning Committee formed in 2008. First recipient of the "Gene Sharp Nonviolence Activist Award", Bethlehem, 2005.

Contact: lbotero [at] nonkilling.org

Rich Panter (Audiovisuals Coordinator)
United States

Rich Panter has worked as a writer/producer/director for public television documentaries and currently lives in northern California as an independent filmmaker, with particular interests in peace and environmental issues. He first worked with Glenn Paige in Hawai'i in 1973 and participated in the First Global Nonkilling Leadership Forum in 2007 which led him to produce three videos for the Center for Global Nonkilling: A Better Way, Hope For Colombia, and Nonkilling: For a Better World.

Contact: info[at] nonkilling.org
Center for Global Nonkilling Incorporators / Center for Global Nonviolence (1994-2008) Board of Directors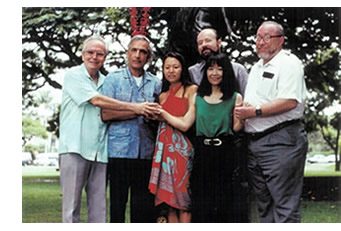 Board photograph at Founding, Gandhi statue, Honolulu, October 2, 1994. From left to right: Glenn D. Paige (President); Lou Ann Ha'aheo Guanson (Vice-President), past vice-president, International Fellowship of Reconciliation, specialist on creativity and leadership for nonviolent social change; Glenda H. Paige (Secretary), management consultant, retired quality manager; Larry R. Cross (Treasurer), president Economics Institute, past academic vice-president, Japan-America Institute of Management Science, past associate dean, College of Business, University of Hawai`i; Ramon Lopez-Reyes (Director), Lt. Col. Inf. (Ret.), scholar-psychotherapist, founder of the International Center for Study and Promotion of Zones of Peace in the World.; George Simson (Director), professor emeritus of English, University of Hawai'i, founder of the interdisciplinary journal Biography and of the Center for Biographical Research.




Center for Global Nonkilling First Team (2008-2011)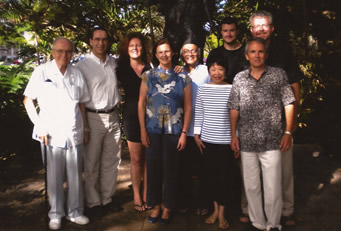 Leadership Team photograph during its first meeting, Gandhi statue, Honolulu, December 2008. From left to right: Glenn D. Paige (Chair, Governing Council, Hawai'i), Luis Javier Botero Arango (Education & Training Team Leader, Colombia), Katherine Li (Project Development Team Leader, Hawai'i), Karen Cross (Co-Director, Hawai'i), Chaiwat Satha-Anand (Action-Policy Team Leader, Thailand), Glenda Paige (Former CGNV Secretary, Hawai'i), Joám Evans Pim (Research Team Leader, Galiza), Greg Bourne (Co-Director, United States of America), Tom Fee (Monitoring & Networking Team Leader, United States of America), Marge Porter (Lead Administrator, Hawai'i [not in this picture].