Background
The Concept of Nonkilling
The term 'Nonkilling' was introduced by Glenn D. Paige in Nonkilling Global Political Science (2002; 2009). As stated by the author, the concept refers to the absence of killing, threats to kill, and conditions conducive to killing in human society. Even though it focuses primarily upon killing of human beings it can be extended to killing of animals and other forms of life. In analysis of its causes, nonkilling encompasses the concepts of peace (absence of war and conditions conducive to war), nonviolence (psychological, physical, and structural), and ahimsa (noninjury in thought, word and deed).
In relation to psychological aggression, physical assault, and torture intended to terrorize by manifest or latent threat to life, nonkilling implies removal of their psychosocial causes. In relation to killing of humans by socioeconomic structural conditions that are the product of direct lethal reinforcement as well as the result of diversion of resources for purposes of killing, nonkilling implies removal of lethality-linked deprivations. In relation to threats to the viability of the biosphere, nonkilling implies absence of direct attacks upon life-sustaining resources as well as cessation of indirect degradation associated with lethality. In relation to forms of accidental killing, nonkilling implies creation of social and technological conditions conducive to their elimination.

Nonkilling does not exclude concepts as peace or nonviolence but rather provides a new approach. This nonkilling approach is characterized by the measurability of its goals and the open-ended nature of its realization. While the usage of terms as "nonviolence" and "peace" in many occasions follows the classical form of argument through abstract ideas leading to passivity, killing (and its opposite, nonkilling) can be quantified and related to specific causes, following a clinical perspective (prevention, intervention and post-traumatic transformation toward the progressive eradication of killing).
But nonkilling does not set any predetermined road map for the achievement of a killing-free society. As an open-ended approach it appeals to infinite human creativity and variability, encouraging continuous explorations in the fields of education, research, social action and policy making, developing a broad range of scientific, institutional, educational, political, economic and spiritual alternatives.
The concept of nonkilling can be expressed through the logo used by the Center for Global Nonkilling. The logo combines the ancient Asian yin-yang symbol with the recent brain research finding that stimulation of the pathways between systems of the brain controlling emotions and movement can assist change from violent to nonviolent human behavior. Analogously Creative Transformational Initiatives (blue), drawing upon Nonkilling Human Capabilities (white), can bring an end to Human Killing (red).
The main thesis behind nonkilling is that a killing-free society is possible. This 'nonkilling society' implies not only the exclusion of killing among humans, but moreover the absence of threats, weapons or justifications to kill –including the preservation or transformation of that society– and conditions conductive to killing. Lethality is therefore excluded as a structural element of human society, as no relations, including those of conflict, are dependent on killing, either actual or threatened, for their sustainability or alteration.
A Nonkilling Paradigm
Assuming a nonkilling society is possible implies the refutation of violence-accepting science from politics to biology. Paradigm shifts, as Thomas Kuhn (1962) explained, are not simply the result of empirical or conceptual debates, but are greatly conditioned by social and psychological factors. As a new paradigm, nonkilling has its own basic principles, language, scientific values and methodological criteria. Violence-accepting science –especially Weberian political science– has largely ignored progress made by nonviolent science, impeded by assumptions hindering the development and acceptance of new ideas.
The nonkilling paradigm implies a four-part logic of analysis, focusing on the causes of killing; causes of nonkilling; causes of killing-nonkilling change; and the characteristics of killing-free societies. Unlike political science that is unreceptive to hypothetical theoretical imagination, knowledge derived from nonkilling analysis must be explored to create practical transforming alternatives. Paige identifies five zones in which these alternatives must be developed: the killing zone (place of bloodshed); socialization zone (where people learn to kill); cultural conditioning zone (where acceptance of killing as unavoidable and legitimate is predisposed); structural reinforcement zone (providing socioeconomic relations, institutions and material means predisposing and supporting killing); and the neuro-biochemical capability zone (comprising physical and neurological factors that contribute to both killing and nonkilling behaviors).
Thus, a normative and empirical shift from the killing imperative to the imperative not to kill must occur through a cumulative process of interacting ethical and empirical discoveries. A normative ethical progression would move from 'killing is imperative', to 'killing is questionable', to 'killing is unacceptable', to 'nonkilling is imperative'. In parallel, an empirical progression shifts from 'nonkilling is impossible', to 'nonkilling is problematic', to 'nonkilling is explorable', to 'nonkilling is possible'.
Action Principles
In addition to seeking knowledge required by the logic of nonkilling analysis as related to the tasks of creating nonkilling alternatives in zones that converge on killing, a nonkilling paradigm shift requires perfection of principles to assist individual and social decisions from daily life to global politics. These can be advanced by an experimental validation approach that combines practical experience and exploratory simulations. Military human-computer and "virtual reality" combat simulations of this kind are already far advanced.
Among nonkilling principles that have arisen in salient 20th century actions (as in the Gandhian and Kingian movements) that merit consideration are:
Draw strength from life-respecting inspiration, whether religious or humanist. Respect your own life and lives of others.
Seek the well-being of all. Killing divides; nonkilling unites.
In conflict, from beginning to end seek reconciliation not humiliation, degradation, predation, or annihilation.
Join in constructive service to remove conditions of suffering of those in need.
Be creative. It has taken great creativity to reach present conditions of technological and structural violence. It will require greater creativity for nonkilling transformation.
Adopt an experimental approach to change. Seek successive approximations of nonkilling societies, learning from successes and failures.
Respect both individual and large-scale social action, from the influence of moral example to mass nonkilling people's power.
Be constructively courageous. Withdraw support from violence and commit it to strengthen nonkilling alternatives.
Walk lightly upon the earth, reduce demands upon nature and fellow human beings that contribute to killing.
Each person who participates in processes of nonkilling discovery and action can contribute to perfecting progressively more powerful principles and skills for nonkilling affirmation of global life that are appropriate for specific situations and contexts.
Nonkilling Leaders
Ultimately the roots of a nonkilling society lie in the biography of humankind. Men and women, singly and in concert, celebrated and unsung, past and present, demonstrate potential for combining commitment not to kill with positive pursuit of social change. What some can do, others can do also.
Anonymous millions respond to the nonkilling leadership of a small, fivefoot four-inch Indian, Mohandas K. Gandhi. Culturally violent Pathans respond to the nonviolent Muslim leadership of Abdul Ghaffar Khan. As the great Gandhian educator Dr. G. Ramachandran has observed, "The unknown heroes and heroines of nonviolence are more important than those that are known". In the United States a small group of African-American college students, trained in Gandhian methods, initiate the civil rights movement that thrusts into leadership the Reverend Dr. Martin Luther King, Jr.
Nonkilling Americans, such as Adin Ballou and Henry David Thoreau inspire Tolstoy; Tolstoy inspires Gandhi; Gandhi inspires King; all inspire German Green Party founder Petra Kelly and many others in a cumulative global diffusion process of emulation and innovation. In 1997 and 1998 Gandhi was chosen as most admired world leader by more than two hundred young leaders from over sixty countries participating in the first two training programs of the United Nations University's International Leadership Academy held in Amman, Jordan. Their admiration echoes that of many independence movement leaders in the post-1945 breakdown of the world colonial system.
Nonkilling leaders continue to arise throughout the world: among them Maha Ghosananda of Cambodia, Ham Suk Hon of Korea, Ken Saro-Wiwa of Nigeria, A.T. Ariyaratne of Sri Lanka, Sulak Sivaraksa of Thailand, Lanza del Vasto and General Jacques de Bollardière of France, Ronald Mallone of England, Aldo Capitini of Italy, N. Radhakrishan of India, Dom Helder Camara of Brazil, A.J. Muste of the United States, Guillermo Gaviria of Colombia.
Reversing historical neglect of Gandhi, Nobel peace prizes begin to recognize leaders with salient commitments to nonkilling: Albert J. Luthuli and Desmond Tutu of South Africa, Mairead Corrigan Maguire of Northern Ireland, Adolfo Pérez Esquivel of Argentina, Aung San Suu Kyi of Burma, the Dalai Lama of Tibet.
Women—each with her story—courageously step forward to challenge nonkillingly conditions of violence in every aspect of society: Queen Liliʻuokalani of Hawaiʻi; Bertha von Suttner of Austria; Gedong Bagoes Oka of Bali; Medha Patkar of India; Dorothy Day, Barbara Deming, and Jean Toomer of the United States. Collectively women take powerful stands against militarist human rights atrocities (Mothers of Plaza de Mayo, Buenos Aires), ethnic slaughter (Women in Black, Serbia), preparation for nuclear war (Greenham Common Women's Peace Camp, Britain), ecological destruction (Chipko hug-the-trees movement, India), and many other injustices.
Brief History
In 1988 the Center for Global Nonviolence Planning Project was established by Professor Glenn Paige as an exploratory initiative in the Spark M. Matsunaga Institute of Peace, College of Social Sciences at the University of Hawai'i. Its purpose was to be a creative facilitator of research, education-training, and action in the form of problem-solving leadership for nonviolent global transformation. The Center pursued discovering and sharing nonviolent spiritual, scientific, skills, and artistic resources through cooperation with individuals and institutions throughout the world, and by assisting the global emergence of nonviolent leadership and citizen competence. The Center also produced a number of publications and convened and participated in leadership conferences around the world.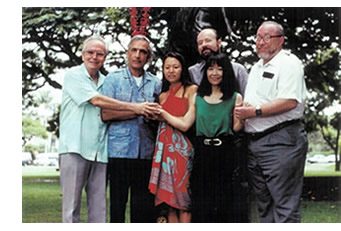 In 2002, Professor Paige published Nonkilling Global Political Science. The nonkilling research findings of the book, of which translations to over 30 languages have been completed or are currently in progress, have become the basis for curricula, on-the-ground advocacy, and affiliate centers in some of the most killing-prone places in the world. This book was published the same year as, and complements, the unprecedented World Health Organization (WHO) World Report on Violence and Health (2002) which concludes that human violence (including suicide, homicide, and war) is a "preventable disease." These publications were significant contributions to the growing literature on issues, research and initiatives related to reducing or eliminating killing from various causes, and in various places, around the world.
In November 2007 the Center organized and convened the "First Global Nonkilling Leadership Forum". A major outcome from the Forum was the acknowledged need and demonstrated support for establishing a successor Center for Global Nonkilling, along with an associated Global Nonkilling Leadership Academy. Nobel Peace Laureate Mairead Corrigan Maguire co-chaired the Forum with retired Canadian science diplomat and Department of Peace advocate Dr. Bill Bhaneja. The Forum was attended by 30 participants from 20 countries.
Immediately following the Forum, in December 2007, Professor Paige and CGNV Secretary Glenda Paige attended the 8th World Summit of Nobel Peace Laureates in Rome, where the Peace Laureates proclaimed a "Charter for a World without Violence". A significant result from the meeting was the addition of a thirteenth principle to the Charter, drafted at the request of Nobel Laureate Mairead Maguire, that calls upon all "to work together towards a just, killing-free world in which everyone has the right not to be killed and the responsibility not to kill others."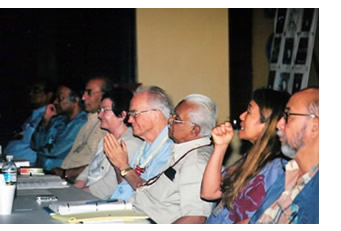 Early in 2008, Humanity United provided a grant to CGNV to conduct a six-month strategic planning process. This process resulted in an organizational development plan for the Center for Global Nonkilling. This provided Humanity United with the basis for evaluating the potential structure, mission and strategies of the new Center, and its likelihood of success.
A five person planning team, led by Greg Bourne, Karen Cross* and Tom Fee, with Glenn Paige* and Glenda Paige* (*existing CGNV Board members) worked closely to develop the organizational plan. Three joint working sessions were held in Honolulu, and four international colleagues joined the second session to contribute their perspectives to the planning process.
Based on this plan, Humanity United then provided a much larger one-year grant in December 2008 to help establish CGNK. The grant enabled CGNK to hire, at least part time, all members of the proposed Leadership Team for the expressed purpose of demonstrating the value that can be added by CGNK to numerous other efforts around the world to stop killing and create societies open to infinite creativity in responding to human needs and aspirations.
During the last quarter of 2008, after the indication of pending funding from Humanity United, CGNV proceeded with officially changing the name of the existing 501(c)3 from the Center for Global Nonviolence to the Center for Global Nonkilling. In addition, legal consultants were hired to update both the By-Laws and Articles of Incorporation for the 501(c)3 and steps for the transition from CGNV to CGNK, such as establishing a new Governing Council, were put in place.
On December 6, 2008, the CGNV Board held its final meeting, adopting a slate of new Governing Council members, as well as providing provisional approval of several important administrative and financial policies for the operation of the new organization. The two co-directors were officially hired by the outgoing Board for a period one year, and the new co-directors then officially hired the remainder of the Leadership Team on one-year appointments.
Founder
Professor Glenn D. Paige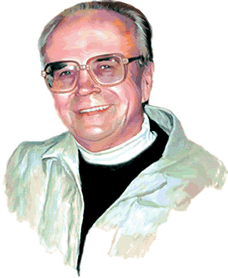 The journey from soldier to scholar to founder with others of the Center for Global Nonkilling can be told in terms of three discoveries.
The first began with a case study with interviews of how President Harry S Truman and other leaders engaged the United States in the Korean War in which Paige had served during 1950-52. This became a doctoral dissertation published as a book The Korean Decision: June 24-30, 1950 (1968).
Subsequent comparative study of divided Korea's divergent development since 1945 led to discovery of the creative potential of political leadership for social change and a call to make this a special field for research, teaching, and service in the academic discipline of political science. This was published in The Scientific Study of Political Leadership (1977).
The second discovery was of nonkilling as a basic value for political science and life. In 1974, blocked in peacemaking efforts to bring North Korean scholars to visit the University of Hawai'i, Paige experienced a sudden transformational awakening that came in three silent words, "No more killing!"
This led to a critical book review by him of his book on the Korean War, which essentially had been a scientific apologia for war. This was published as "On Values and Science: The Korean Decision Reconsidered" in the American Political Science Review (December 1977). Such an author review was unprecedented in the history of the APSR since 1906.
The third discovery followed projection of the logic of nonviolent critical analysis applied to his own scientific work to critique the violence-accepting assumptions of the discipline of political science as a whole. After 28 years of research, teaching, and travel to discover foundations for a new nonkilling discipline the results were published as Nonkilling Global Political Science (2002; 3rd ed. 2009).
By 2009 the book was being translated into 34 languages and had led to convening the First Global Nonkilling Leadership Forum in Honolulu, November 1-4, 2007. Proceedings are published in Global Nonkilling Leadership (2009).
The Global Forum led to visionary support by the humanitarian foundation Humanity United to transform the nonprofit Center for Global Nonviolence founded by Paige and others in 1994 (with affiliates in Haiti, Nigeria, and Great Lakes Africa) into a unique Center for Global Nonkilling (2008 - ). This startup support enables a Leadership Team of seven workers, including two co-directors, to begin to demonstrate capability—in worldwide cooperation with individuals, organizations, and institutions— to carry out the CGNK's mission "to promote change toward the measurable goal of a killing-free world."
Every step on the journey of the founder from war to chair of the Governing Council of the Center for Global Nonkilling has been made possible by inspiration and support of others at home and from throughout the world. Chief among them is assistance in every aspect of work since 1973 of his wife Glenda Hatsuko (Naito) Paige. Inadequate acknowledgement to all is expressed in the publications that mark the discoveries of the journey.
The son of a YMCA social worker, Glenn Durland Paige was born on June 28, 1929 in Brockton, Massachusetts, in the northeastern part of the United States known as New England. He grew up in Rochester, New Hampshire, with summers in Provincetown, Cape Cod, Massachusetts. He served in the U.S. Army (1948-52). He is a graduate of Phillips Exeter Academy (1947), Princeton University (A.B., politics, 1955), Harvard University (A.M., East Asian regional studies, 1957) and Northwestern University (Ph.D. political science, 1959). After teaching at Seoul National University (1959-61), and Princeton University (1961-67), he taught at the University of Hawai'i (1967-92). He has lived in Honolulu since 1967 and has benefited from kindness of others in travel to more than thirty countries.
Glenn D. Paige's drawing is the work of "Sona & Jacob" (India). © Copyright HWK-Verlag, Germany.
The text on this page is under GNU Free Documentation License. Visit Wikipedia for an updated biographic account.
Our Logo

In the circle of the Universe, creative transformational initiatives (blue), drawing upon nonkilling human capabilities (white), work to end human killing (red).
Documents
First Global Nonkilling Leadership Forum Documents
Center for Global Nonviolence (1988-2008) Documents
The Center for Global Nonkilling has awarded the "Global Nonkilling Circle of Honor" to individuals, organizations and communities who have significanty contributing toward nonkilling transformation, both "In Memoriam" and "In Action".
The first "Global Nonkilling Circle of Honor" was awarded in 2004 in recognition of Guillermo Gaviria, Yolanda Pinto and Gilberto Echeverri"

Download in PDF [23 Kb].